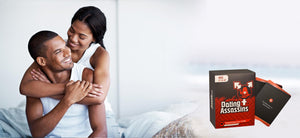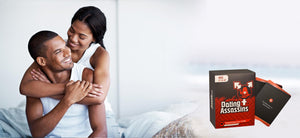 Dating Assassins Card Game
Dating Assassins Card Game
The only card game that will ASSASSINATE your truth. Ask questions to your potential partner. If they take too long to answer or you see them sweat. Yell. "YOU HAVE BEEN ASSASSINATED!" "GAME OVER!"
Dating Assassins Card Game
When you're looking to play something innovative with your partner, we recommend looking at the Dating Assassins card games. The next time you spend quality time together, we guarantee you'll fully enjoy yourselves!
Dating Assassins Card Game
How well do you know your partner, and how well do they know you? The longer you're dating, the more you'll learn about each other—but let's be honest. How often do we really pause and ask our partners those deep, important questions?
shop now
On the search for the greatest card game for couples that you can play with your partner for your next date? We have some fun recommendations for you.
Not only will you have a wonderful time together and share some laughs, but you'll also get to talk to one another. Now that's quality time well-spent!
Sure, watching a movie is fine and all, but it will never give you the same experience as interacting with each other.
For that, to truly feel more connected to each other, you have to engage; you have to talk, you have to communicate.
These card games are really great because they create the needed space for you to have a heart-to-heart and level with each other. 
shop now
Dating Assassins Card Game
The perfect couples game to start meaningful conversations, get to know each other intimately, have fun and heat things up, or all at the same time.
shop now
Be Happier!
Our game provides couples with tools to create stronger, happier, more long-lasting relationships.
Improve Your Relationship!
Reconnect with your partner and rediscover what brought you together in the first place.
Spend Quality Time Together!
Perfect for a fun, romantic or even sultry date night. This game will benefit your relationship by finding new ways to date!
WHAT OUR SATISFIED CUSTOMER SAYS
★★★★★

These cards are great boredom busters to get everyone talking. They are fun to answer and sometimes lead to longer conversations.

Sophia
★★★★★

We've only done one date so far and I'm already very happy with my purchase. The point of these cards is to get out of your routine and to share a fun experience together.

Harry
★★★★★

I had so much fun playing. It was amazing and even brought back memories and started amazing conversations! Definitely would recommend buying!

Olivia
★★★★★

I really enjoyed the questions. They are thought-provoking and allow for great conversation amongst families that are getting to know each other. Would definitely recommend it.

Mia